Mr Wesley with Jean Paul Gaultier at the opening night of the JPG exhibition at the Barbican Gallery
Lady C with Wilko Johnson
We were privileged to attend Wilko's show with Roger Daltrey at Shepherd's Bush in Feb 2014.
Roger Daltrey liked Mr Wesley's coat so much he just pointed and said, "I'll have that!"
Music Titan Bill Curbishley, Mr Wesley and Norman Watt-Roy
Norm played bass with Wilko and Daltrey on this night, but his day job is in the Blockheads.
The twinkling charm of Mr Le Bon provokes a spontaneous physical reaction in Lady C. Proof that wearing your t-shirt inside out will draw luck your way!
Simon Le Bon taking no chances in helmet and goggles, in between Mr Wesley and our lovely Flora. Brian photo bombs au coin.
HRH The Duchess of Cornwall with Ma Butler and a couple of photo bombers
The I CAN charity celebrated its 125th anniversary with a concert at St. James' Palace attended by HRH The Duchess of Cornwall. We put a bespoke suit into the charity auction.
Lady C with Goldie in his Bedlam MC tee
We are Family - Nile Rodgers and Lady C.
The World's #1 DJ, Paul Oakenfold, in the studio in his Bedlam Motorcycle Club tee.
Christopher Dowd and Angelo Moore from Fishbone, the greatest band in the world, with Lady C after a sweaty show at the Underworld in Camden.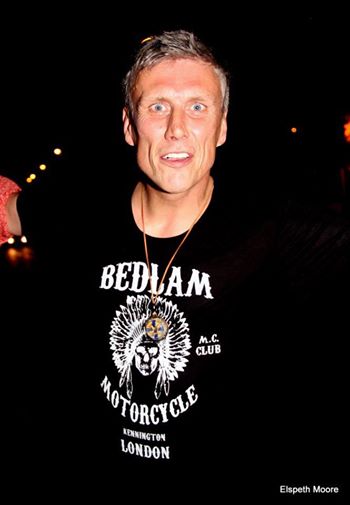 Bez launches the Reality Party in Bedlam
A new breed of pollen-titician perhaps? We wish Bez the best of Bedlam luck with his attempt to ignite a conscious compassion in the polling station. They got off to a great start in may 2014, coming third in Salford with their first candidate. (great photo by Elspeth Moore)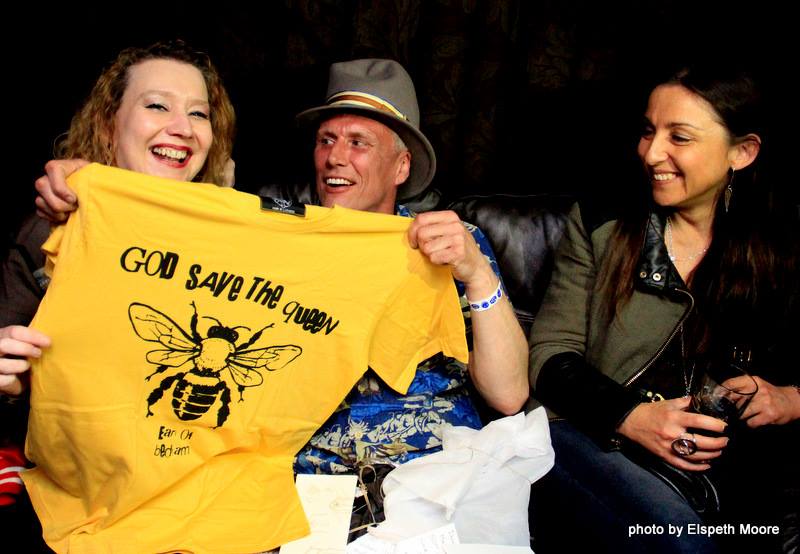 A Buzzin' Birthday for Bez
Lovely Jacky Carroll (on the left) gave keen apiarist Bez our "God Save the Queen [Bee]" tee for his birthday. Photograph by Elspeth Moore, to whom thanks for allowing us to use it.
Mr Wesley with David Harewood (wearing the Bedlam high top hat), of "Homeland" fame and much else besides including but not limited to being Lady C's RADA class mate.
The Right Rev. Larry Love of Alabama 3 in his Tectonic suit with Mr Wesley.
Mr Wesley & Mark Hill of "The Antiques Roadshow" and "Collectaholics", at the latter's birthday party at Counter, the glamorous eatery in Vauxhall for which we made the servers' outfits.
Both wearing their Bedlam - "My favourite suit ever. Period." as declared by Mr Hill in response to the Twittersteria when he wore it on't telly. We custom made glass buttons with his motif inside, as glass and ceramics are his field of expertise.
Celebrating "Luxure" Magazine CEO Phil Tucker's birthday at the Ivy Club.
The Earl (in his Signor Zoot suit) with Normski at the private view for Jeremy Deller's Haywood Gallery "Mid-Career Retrospective".
Jeremy Deller himself and one-time band mate Lady C.
With Philip Salon, ring leader of club land costume extravagance, at the V&A.
Cameron Silver, international fashion curator and commentator, and proprietor of "Decades" store in Los Angeles, with Lady C (in the "Megan" jacket), both wearing their Pearly King Newsboy caps, the very synthesis of London and Manhattan.
DJ Redboy, face of Bedlam NYC, with Mr Wesley (they love each other really) at the showcase party for Bedlam at Any Old Iron, Orchard Street, on the Lower East Side.
Lady C with Q aka Ben Whishaw, fellow RADA alumnus.
Lady C with Daniel Craig (sort of).
At the Edinburgh Book Festival with Irving Welsh.
The then Mayor of Lambeth, Christiana Valcarcel, cutting the ribbon and thereby declaring the Earl of Bedlam shop open.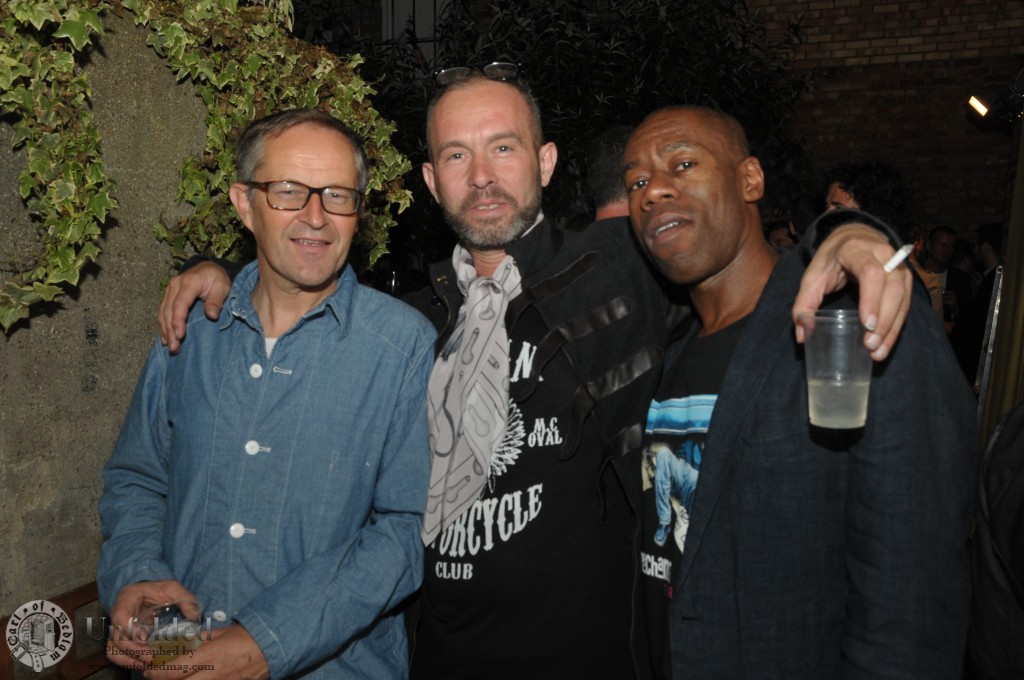 Messrs. Ashley, Wesley and Roachford, that well known close harmony group, at the opening night of the Earl of Bedlam shop (photo by Nardip for Unfolded magazine)
At the opening night of the original Oval shop, which was honoured with an appearance by Antony Price, the man who invented the fusion of fashion and music, with Roxy Music (photograph by Kris Allen).
Mr Wesley accompanies Bryan Ferry (or not) at the Mansion House in the City of London, which has staged two exhibitions of Bedlam's work - one with the Campaign for Wool, the other curated by Dr Paul Ryan.
Backstage at the Royal Albert Hall with Gregory Porter during the BBC Proms. Gregory and his luggage had gone separate ways the morning of the performance so we helped out, thanks to the generous good humour of Dolf Sweerts. Being of the same build, he donated his Dinner Jacket to the cause as it was hanging on our rail waiting for pick up.
Master magician David Blaine with Lady C at Scott & Leslie's wedding in New Orleans. David up-close entertained the guests at the party as Scott is his manager.
A new section, entitled "Brian in Society". When he was so titchy he had to go everywhere with us, Brian got a cuddle from Gregory at his hotel.
When Nile was working on the Duran Duran album he wanted to give Bedlam t-shirts to the band and Mark Ronson Bedlam so we poddled down to the studio. Mr Le Bon and Brian here practise their puppy dog eyes.
John Taylor recalled that Bob Dylan said the secret to a hit album was a sleeping dog in the studio. Brian remixed that as "piddling puppy".
Handsome champ Pat Cash exerted a strange power over Brian who not only wore the famous chequerboard headband - the honour was not lost on him - but posed grinning for photos like it was as much fun as chewing tennis balls!
Brian, Hound of Bedlam, is a bit of a howler we're sorry to report, so he was confined to rainstick when he visited his DogFather Nile Rodgers at Abbey Road Studios. The feted producer coaxed a platinum potential performance from him, needless to say.
British actor of growing renown, Tom Burke, reassures the Hound of Bedlam that Every Dog Has His Day. Not that he needs reassuring, pretty much every day is Brian's day.
Not sure why I decided to go as Axl Rose to see Jools & co play Hampton Court Palace, surely not to impress the ghost of my Great Grandma Alice who used to live there
The Hound of Bedlam walked abroad on hallowe'en and met himself coming the other way at the Walcott, with Mark Hill from the Antiques Roadshow wearing Brian's image (as sketched by James Johnston of Gallon Drunk and PJ Harvey And Nick Cave & the Bad Seeds fame)