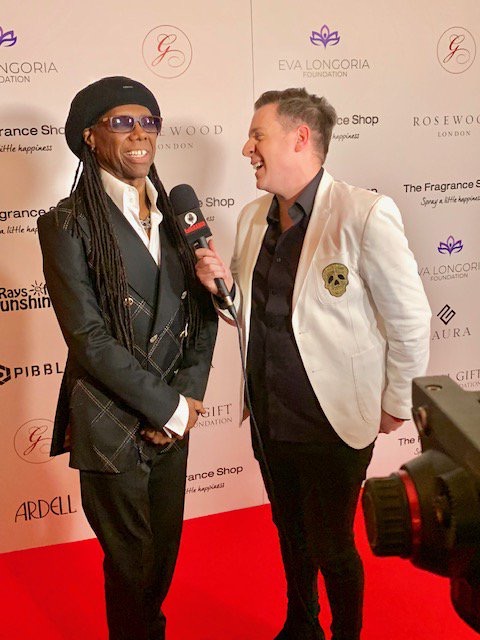 Nile Rodgers, maestro music producer, hit writer, guitar player, in his "Duke Ellington" double breasted three piece suit in the whitest wool on earth with (up all night to get) lucky Japanese Goldfish shell buttons. His band Chic always wear white on stage.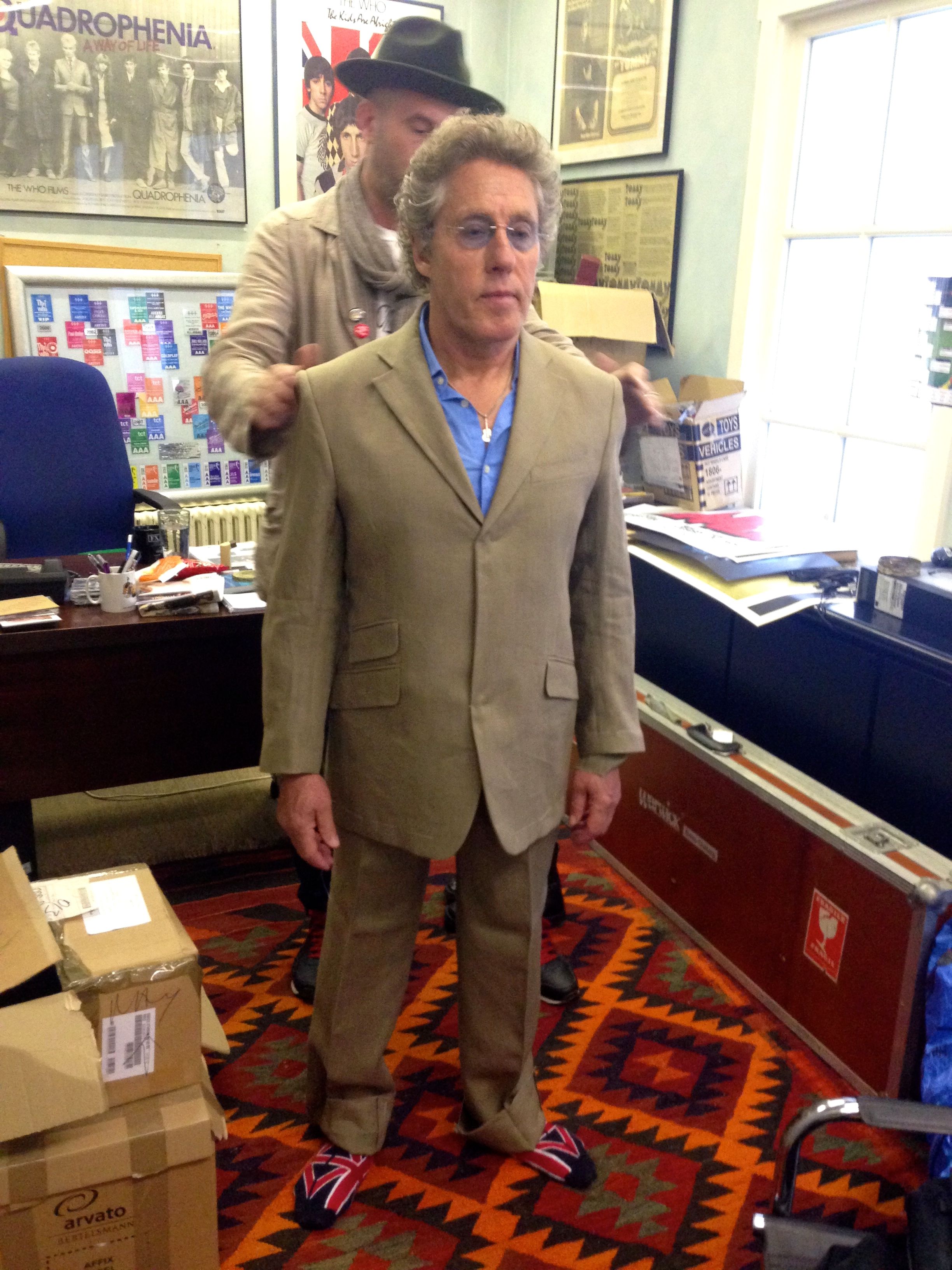 Mr Roger Daltrey
Roger ordered a suit in vintage linen by Scabal ("I like the crumples, I'm a bit crumpled.") and our "Mr Clancey" coat in Harris Tweed from Huddersfield Fine Worsted. See the next picture for how we made the coat very much Roger's own.
A coat for Mr Daltrey
Harris Tweed (with its individual serial number visible on the label) lined in a silk twill custom printed by our pals at Hatley print. The target is of course the logo of his band The Who, about to embark on their 50th anniversary tour.
Mr Wesley with South London don Eddie Richardson (in cashmere over coat and Duran Duran don Simon Le Bon (in one of his Bedlam jackets), both at fitting stage.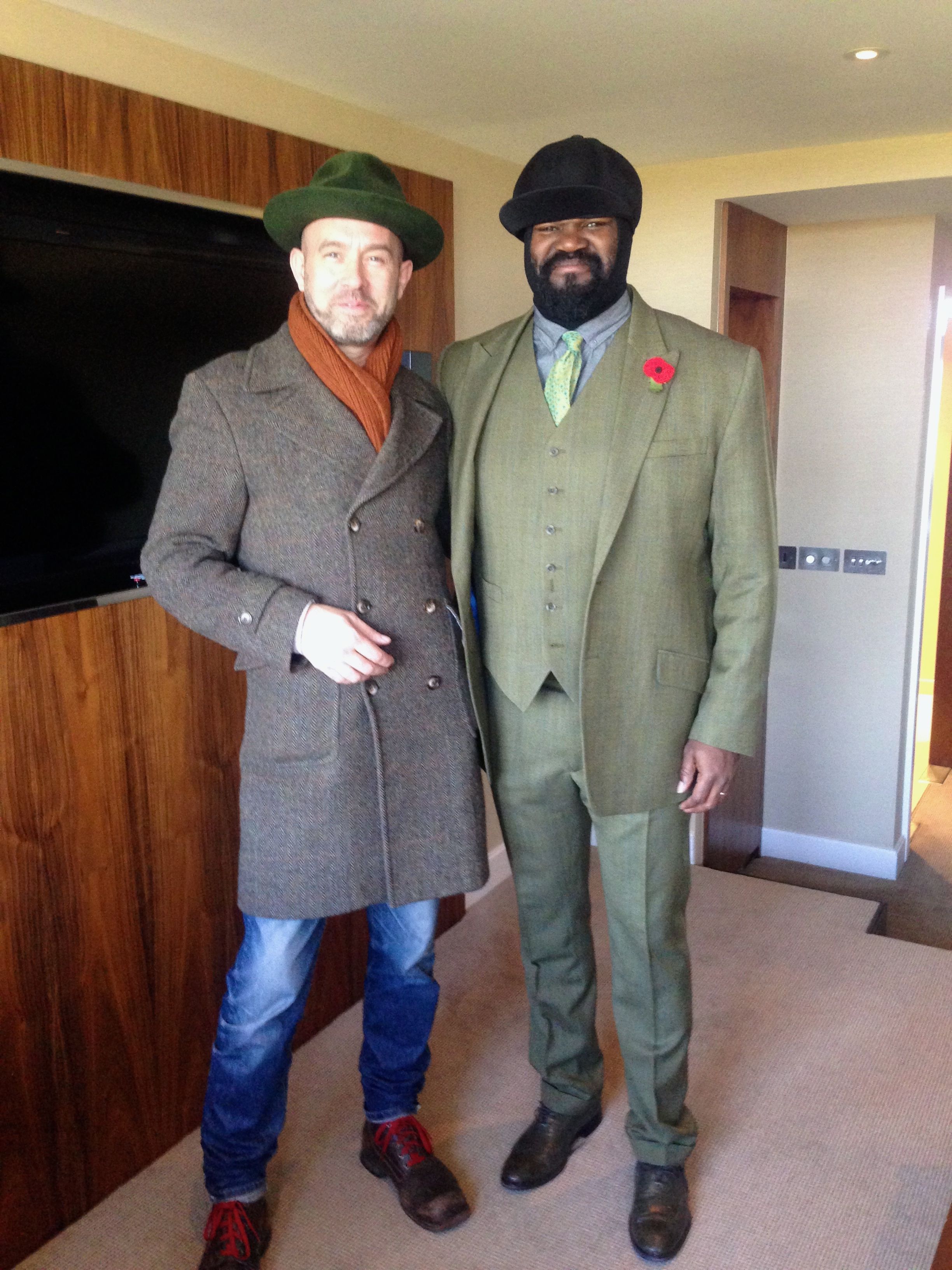 Gregory Porter takes delivery of his three-piece suit in a John G Hardy "Alsport II" tweed.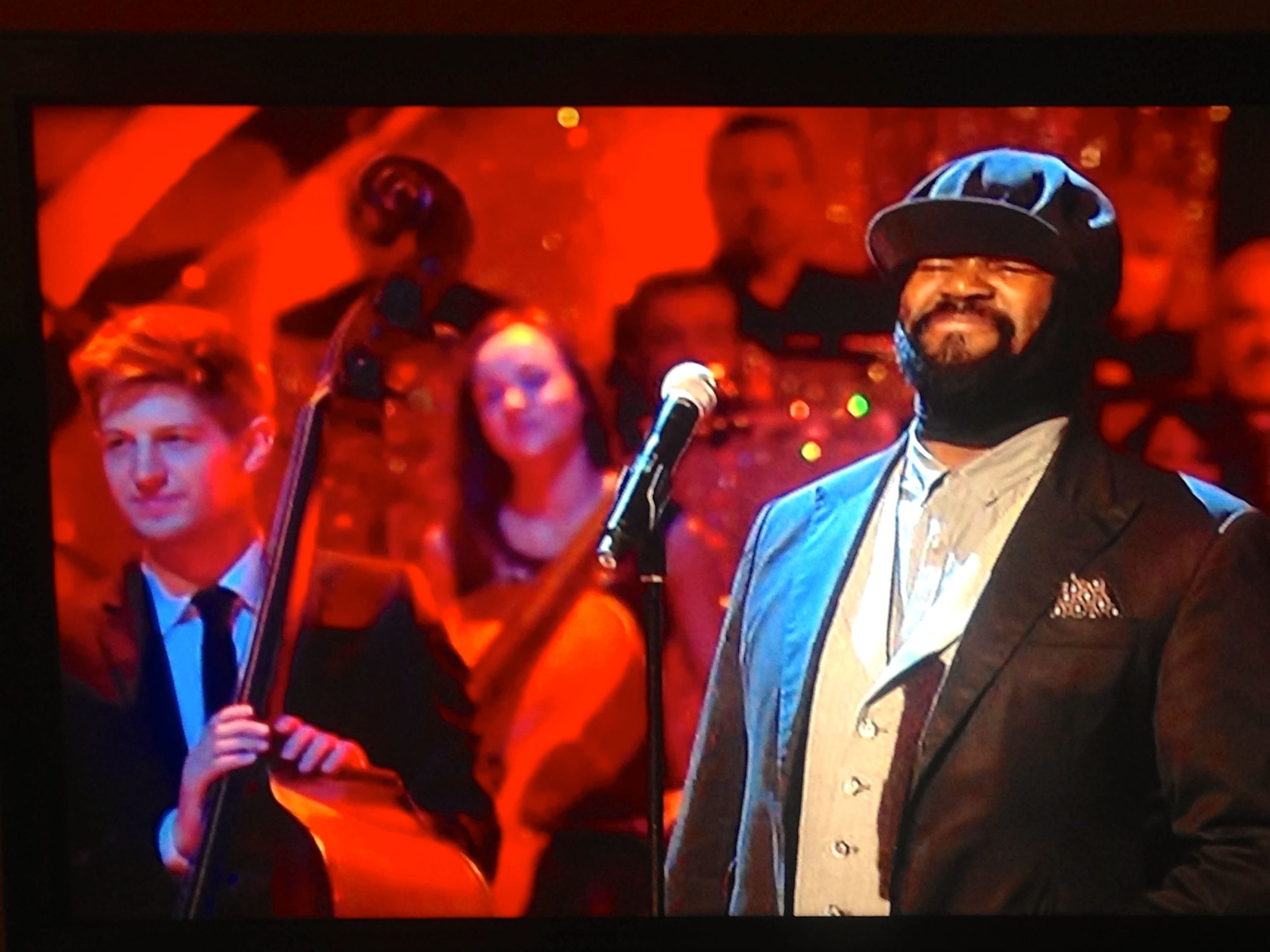 Gregory performing on Strictly Come Dancing
Wearing our puppy tooth waistcoat, he looked like the cat with the cream.
Anais, a student at St. Andrew's University, having her fitting for the "Thin Red LIne" jacket made of an ancient British fabric called kersey.
Scott Rodger, who manages Sir Paul McCartney, Arcade Fire and many other artists, in his first kilt suit. The kilt and jacket details were in a stealth tartan that only reveals when the light hits at a certain angle. The silver skull on black glass buttons were commissioned exclusively from Stuart Goodings at www.militaryjewellery.com
Scott with one HIS two Grammys at the 2014 ceremony. Bedlam- how success likes to dress!
Mr Andrew Roachford, of his own band fame and currently singer with "Mike & The Mechanics", in his "Black Pudding and Fried Tomato" strides. He honoured us by performing at the opening of the old Oval shop.
We place our clients on a pedastal.
Hey Mr. Bass Man, you've got that Certain Something
Dave has played bass for Jools Holland for twenty five years and counting. He does all the TV shows and touring, and can be heard on Jool's Radio 2 broadcast also. He is a cool cat with a touch of the Wolf Man - his passion, after music and dressing beautifully, is vintage horror films.
Bespoke Bass
Quality hits a true note. Dave's double bass was bespoken for him by a craftsman in Deptford. Keeping it real South London style.
Celebrated crime writer Jake Arnott in his herringbone breeches that he wears to cycle about town. He wears our "Signor Zoot" suit on the dust jacket of his novel "House of Rumour".
Jake Arnott wearing his Bedlam "Signor Zoot" suit on the dust cover of his book, "House of Rumour".
The marvellous Mr Mingle takes the measure of Matias at a fitting in his office.
Rob's wedding suit. He kindly gave permission for us to post his photo, "As long as it can also go on public record that you guys are fantastic and I wouldn't have wanted to be in any other suit on my wedding day."
Scorchio!
Gugu in her "Sherbet dab" jacket.
Chris' double breasted wedding suit in softest dove grey, on the outside at least!
True Love
Oh no, wait, that's the next picture...
TRUE Love!
Chris in his beautiful suit with his beautiful bride Jenna.
The celebrated dresser-upper and Resonance FM dj Alberto Umbridge in his Ginger Chutney suit.
Anthony was a military man, tanks. Helping out that day was our intern Ingmar Patton whose great grandfather General P knew a thing or two about being properly turned out too. A pair of bespoke trousers starts at £340.
Andrew in his 21st birthday suit.
Lovely Marina wearing the mini skirt of her suit with Mr Wesley holding the matching breeches. Bedlam's in-house milliner, Mrs P-K, made the flat cap to top it off.
And being worn at the occasion for which it was intended, at the Palace of Caserta, Italy.
The late and much missed Sir Michael Wilmot in his Bedlam jacket and seersucker trousers.
Merlin the dog and Arthur Sweerts de Landas, proprietor of the Buccleuch & Queensberry Arms Hotel in Thornhill, in the Scottish borders.
Vintage glass buttons with gilt satyr head from my grandma's button box, a nod to Arthur's family's coat of arms.
Our mate Pal in his shawl collared "Mr Fox" jacket and "Piccalilli" strides.
Cameron Silver, curator-commentator on international fashion and owner of Decades, the vintage store in LA that made pre-loved a wardrobe pre-requisite, in his one-off Pearly Cap of Bedlam at the opening of the Tommy Hilfiger flagship store in LA.
Fitting Baron Sweerts de Landas Wyborgh in the lobby of the Buccleuch & Queensberry Arms Hotel. Earl of Bedlam is also available through the hotel shop. http://www.bqahotel.com/
Lady C's beloved godmother, the late Elisabeth Ratiu in her Bedlam jacket and velvet "Rembrandt" beret made by Maria PK for Bedlam. Diminutive in stature she may be but even in her nineties her strength of spirit, and fashion forwardness, towered over most.
Helen Patton in the coat of Harris Tweed named for her, whilst our then intern, her eldest son Ingmar, sews pearly buttons on Bedlam's London-New York Newsboy Cap.
NY face of Bedlam, Redboy, with Helen Patton in her "Victory of the Curves" suit made from a John G. Hardy "Alsport" tweed, created to mark an anniversary of her grandfather General's WWII victory at the Battle of the Bulge. In the foreground, Monkey the Dog, senior shop assistant at Any Old Iron, then stockist of EoB in NYC, since decamped to Nashville.
We use only the finest British fabrics. This is a John G. Hardy "Alsport" tweed from the stable of Hardy Minnis that carries the Royal Warrant and supplies, we are proud to say, "the world's most prestigious tailors". They are "By Appointment to her Majesty Queen Elizabeth II mercers of woollen cloth".
Sarah doing the over-the-shoulder red carpet pose in her shooting jacket. It is slashed doublet style centre back to show a flash of Dutch orange silk.
The full ensemble for game keeper Russell, and there was a cap too...
Russell rocking the full look in his natural habitat of Dumfries & Galloway.
Thomas in his dinner suit.
Charlie does the San Andreas stomp in his Tectonic suit.
Cool hand Jake in his "Joat", the strong new length.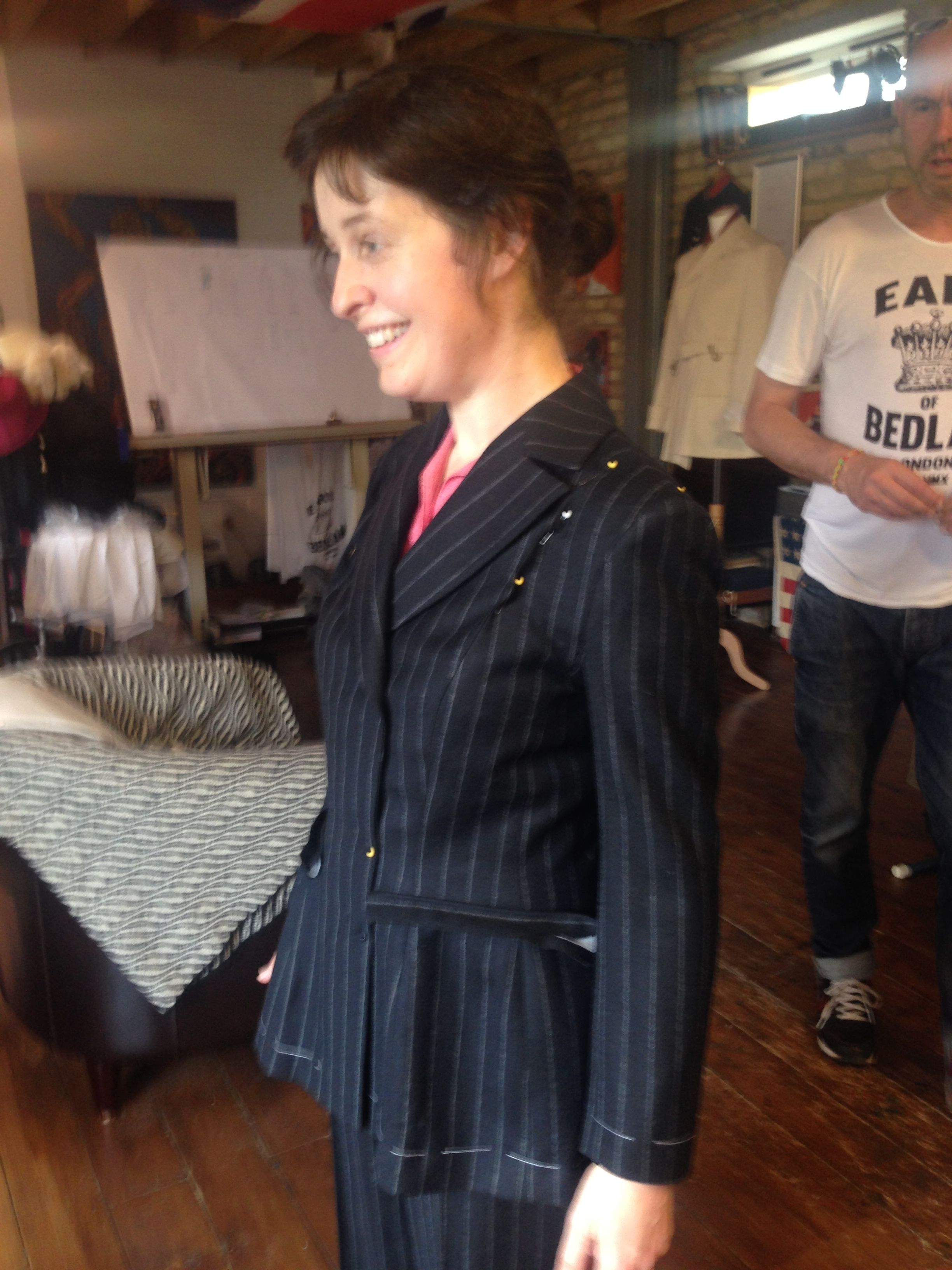 Comedienne Joanna Neary in her seriously sexy Mannish Suit
Sharp wit, sharp tailoring. It's hard to better a kick-ass trouser suit on a gal packing gags.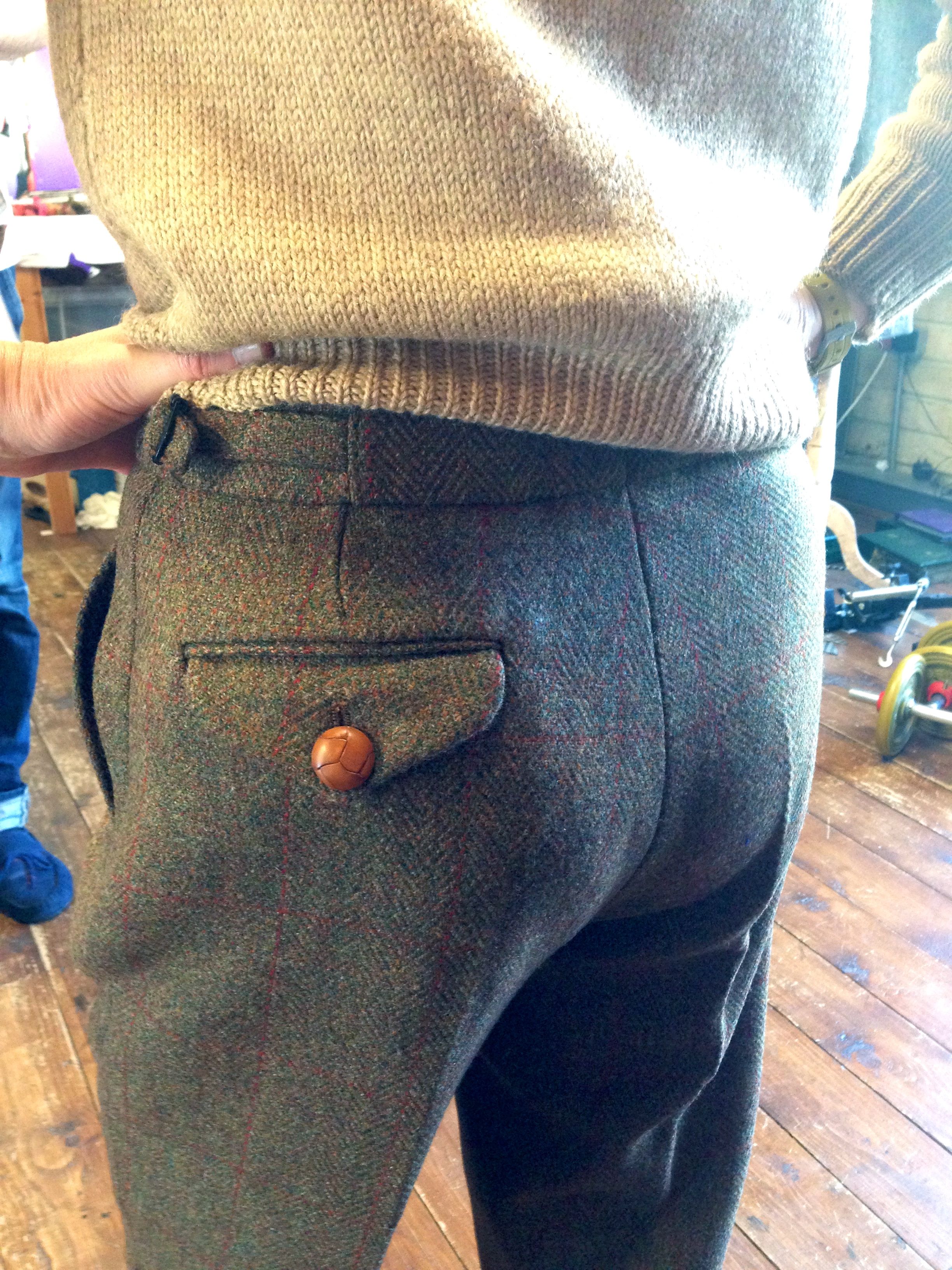 Joanna's beautiful behind
Joanna first commissioned us to make her some wide legged tweed trousers.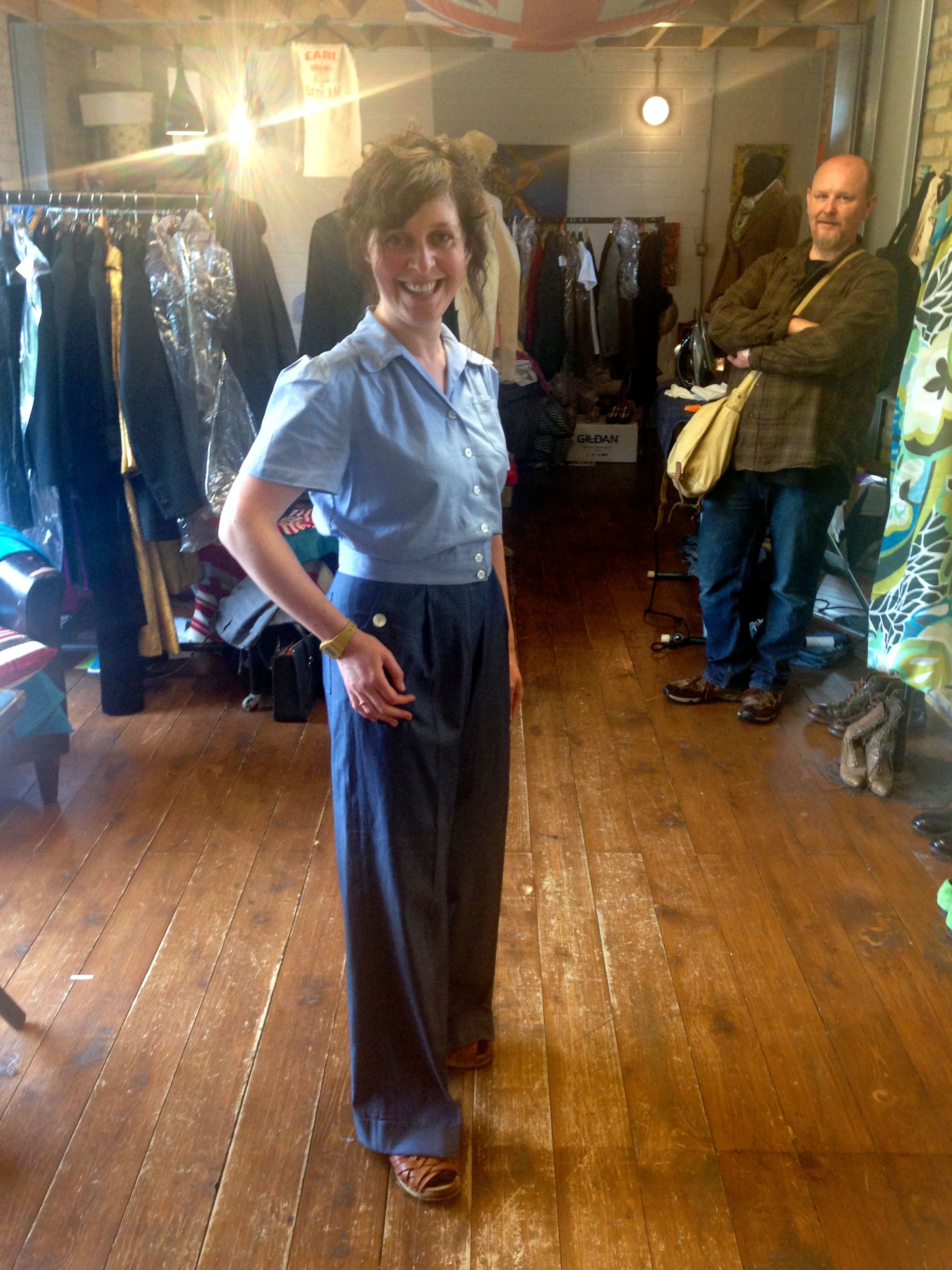 A Small Sartorial Tribute to Ms. Bacall
For the summer we made Joanna a pair of wide legged sailor trousers in blue cotton that can be chucked in the washing machine. The inspiration was Lauren Bacall aboard a yacht with Bogey, so this is our small tribute to her style. Joanna's own soulmate looks on admiringly.
Steve commissioned a three-piece suit in a 12 oz. 100% wool worsted from the Holland & Sherry "Peacock" range.
We think Steve currently holds the record for most pieces of Bedlam bespoke in his wardrobe.
Mr Rodgers' own words in the August 2013 GQ profile of his style:
"On some level, with certain tailors, I have a love affair with the bespoke process. There's this label Earl of Bedlam, a new line coming up here in London. Their rap is that they use nothing but the finest English fabrics. I have some wonderful woollen suits. Even their T-shirts are extraordinary: there are a couple of shots of a three piece white suit Mark Wesley made for me in a magazine called Jocks & Nerds..."
Cameron Silver featuring again, this time looking ambassadorial in the Tectonic at the Selfridges book signing of his magnificent compendium of style "Decades - a Century of Fashion", cradled lovingly by Lady C. http://www.shopdecadesinc.com/blog/
Our party piece, piece de resistance, plume de ma tante… the Tectonic cut, with panels of pin stripe, grooved or furrowed cloth panel placed at angles to each other to build up a force of energy when life needs a shunt.
We luff our clients, we weally weally do.
Leather buttons from Lady C's Grandma Ella's button box, all a slightly different hue, each picking out a colour of the tweed for Mike's shooting jacket. The best bit is proposing it to the client and having them say, "Yes, great!" rather than, "mmm, I'd rather they were all the same".
Alfie the Ace, rising young golf star, being fitted in his Bumble Bee jacket. Fly like a condor, sting like bee - it's a zinger!
Michel Roux jr at his fitting, where, unfortunately, Brian was more of a hindrance than an assistant, but Chef is much too nice a chap to have minded. Also in shot, la belle Giselle, Madame Roux, in the "Uptown Punkette" jacket we made for her.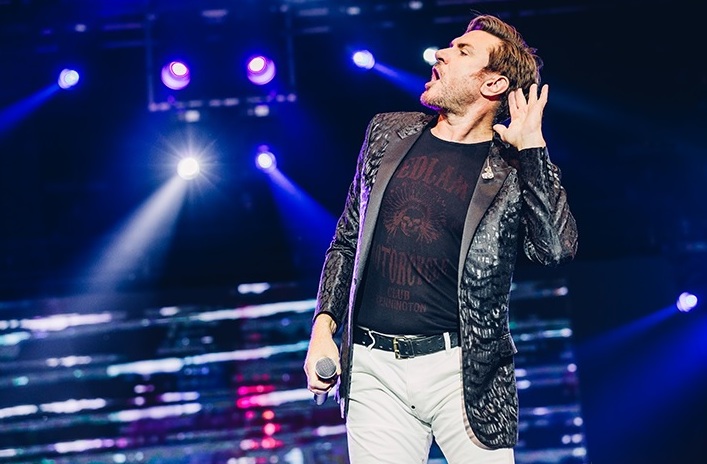 And Mr le Bon again wearing another custom printed Bedlam shirt (even a tee can be bespoken!) on stage during the triumphant Paper Tigers tour 2015
At work in his restaurant Le Gavroche, Michel came out to greet Ma and Pa Butler on their birhdays.
Chef Michel fancied something skull & crossbones-esque for the lining of his dinner suit. In a clever brush stroke, Mr Wesley took the traditional tall white chef's hat, crossed a knife & fork beneath it... et voila!
One dinner suit is served!
Chef with his Food Travel award 2015 for best dinner suit! Nooo, in recognition of his superlative skills in the kitchen.
Mark Hill wore our / his suit on his show "Collectaholics" - a spin off from his duties on Antiques Roadshow. It was the subject of much Twitter-sphere enquiry to which he was kind enough to respond: "My favourite suit ever. Period"
Actor Tom Burke at one of his waistcoat fittings.
Tom Burke as Athos in the Musketeers, second from right
Tom's second waistcoat was made from a peasant extra's enormous pair of pantaloons
Tom Burke in the waistcoat we made him at the BAFTA / InStyle magazine "Rising Star" party, February 2016
Tom Burke squeezing with intent at the photo shoot to celebrate 1st anniversary of the Vauxhall restaurant Counter, wearing his grey flannel Tectonic suit
Moritz back for another suit - we'd better borrow that stepladder from the previous photo!
Gorgeous Rory in the double breasted suit we made him underneath his bespoke Trench Coat - a classic that is surprisingly difficult to find now everything is over designed and mucked about!
We used the extraordinarily impermeable 100% cotton British wonder fabric Ventile (R) that was used to make fighter pilots' flying suits in WWII.
Simon le Bon with Duran Duran live for the TODAY show in the Irving Plaza in NYC, Sept 2015
PJ Harvey likes her band like her lyrics, smart. Here she is on stage with James Johnston in his black Bedlam suit.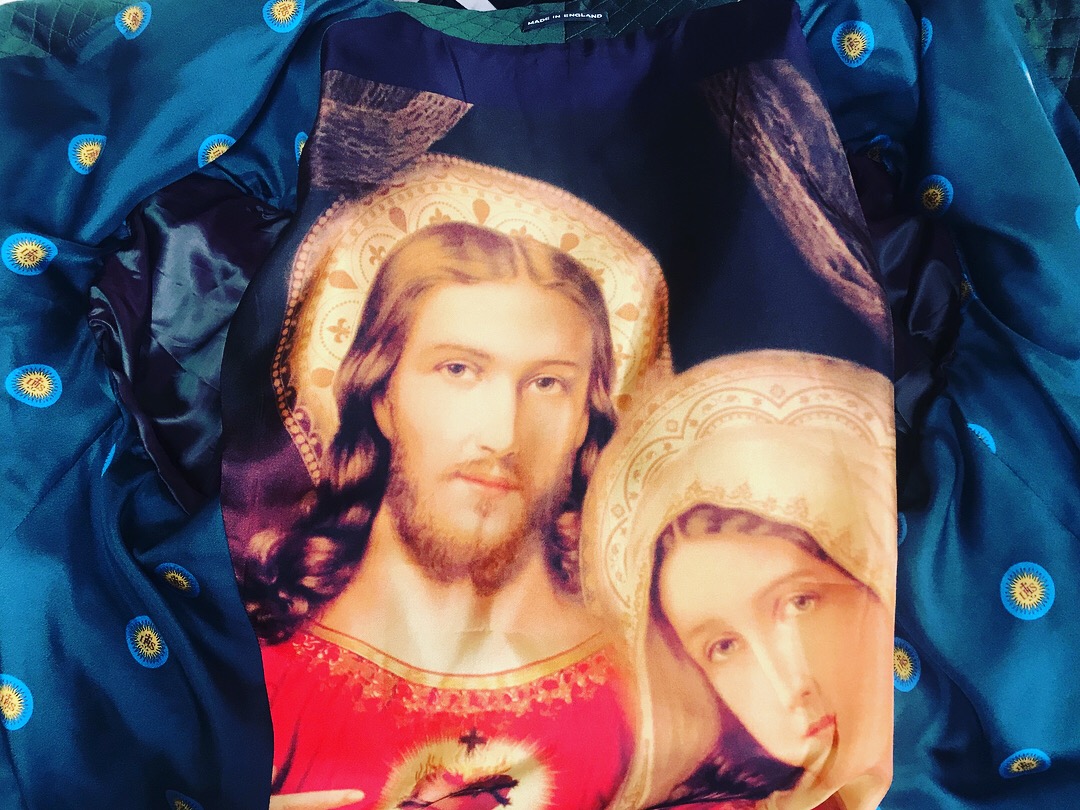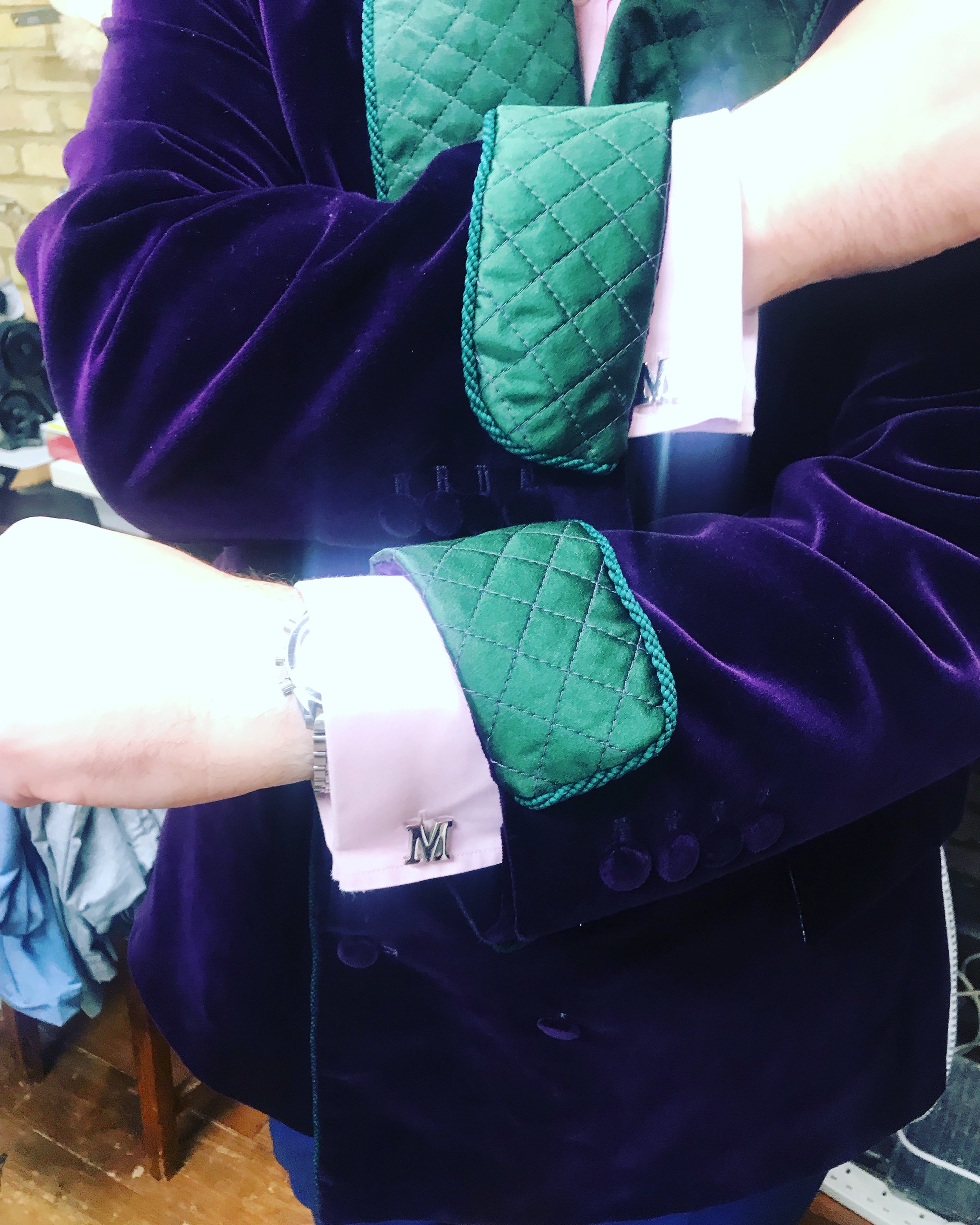 Robert chose a 100% wool John G. Hardy Worsted "Alsport" in a charcoal grey with joyful flecks of colour and a silver lining for his wedding suit. We went for mussel shell buttons - one cuff will show the rough side, the other will present the smooth. For such is married life!